NUTRAFOL STRAND DEFENDER CONDITIONER
A lightweight, physician-formulated conditioner with natural ingredients that provides multi-layer protection to strengthen the hair cortex and reinforce the cuticle to defend against damage. Clinically shown to replenish moisture and improve elasticity so hair stays strong, smooth, and healthy.
Regular price
Sale price
$44.00
Unit price
per
Sale
Sold out
Share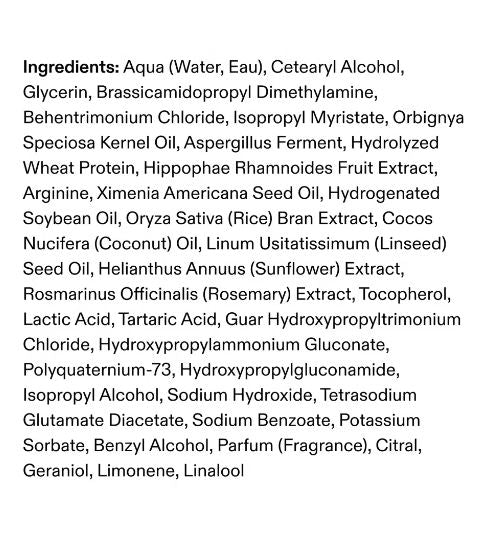 Product is ideal for
Defending hair against damage
Replacing hair elasticity and moisture
Strengthening hair for improved hair health
The Nutrafol Strand Defender Conditioner is a lightweight, silicone-free conditioner with a science-backed formula that helps defend hair from damage by replenishing lost moisture, maintaining the integrity of the hair cuticle, and strengthening hair at the cortex.
The Nutrafol Strand Defender Conditioner contains rosemary oil, coconut oil and rice extract, all of which are believed to stimulate thickening of hair naturally.
The result: hair that remains healthy, strong and hydrated without being weighed down.
1. After shampooing, apply a dollop of conditioner from mid-shaft to ends. 2. Leave for at least two minutes. 3. Rinse with water.
Q: How much retinol is in your products?

A: The Retinol Moisturizer has 2.5%. The Retinol Eye Cream has 1%.

Q: How much Vitamin C is the CE Antioxidant Serum?

A: It contains a 20% solution of Sodium Ascorbyl Phosphate.

Q: Is retinol only to be used at night?

A: We recommend retinol for night use only. However, the Retinol Eye Cream can be used during the daytime if sunscreen is applied afterward.

Q: Can I use the Retinol Moisturizer on my hands?

Q: Can I use the cleanser to remove makeup?

A: Our Green Tea Cleanser is not formulated to remove makeup and should not be used on the eyes.

Q: Can I use the Retinol Eye Cream on my upper and lower lids?

A: We recommend only applying the Retinol Eye Cream under the eyes.

Q: Can I use the Brightening Cream in the morning and at night?

A: Yes! Apply this as your last step before sunscreen.

Q: In what order should I apply my products?

A: With your order, you will receive a product catalog. On the last page, there is a skin care protocol to help you learn when and in what order to apply the products you have.

Q: How do I know what supplement to take and when?

A: If you place an order for YOUN Health products/supplements, you'll receive a supplement protocol with your purchase.