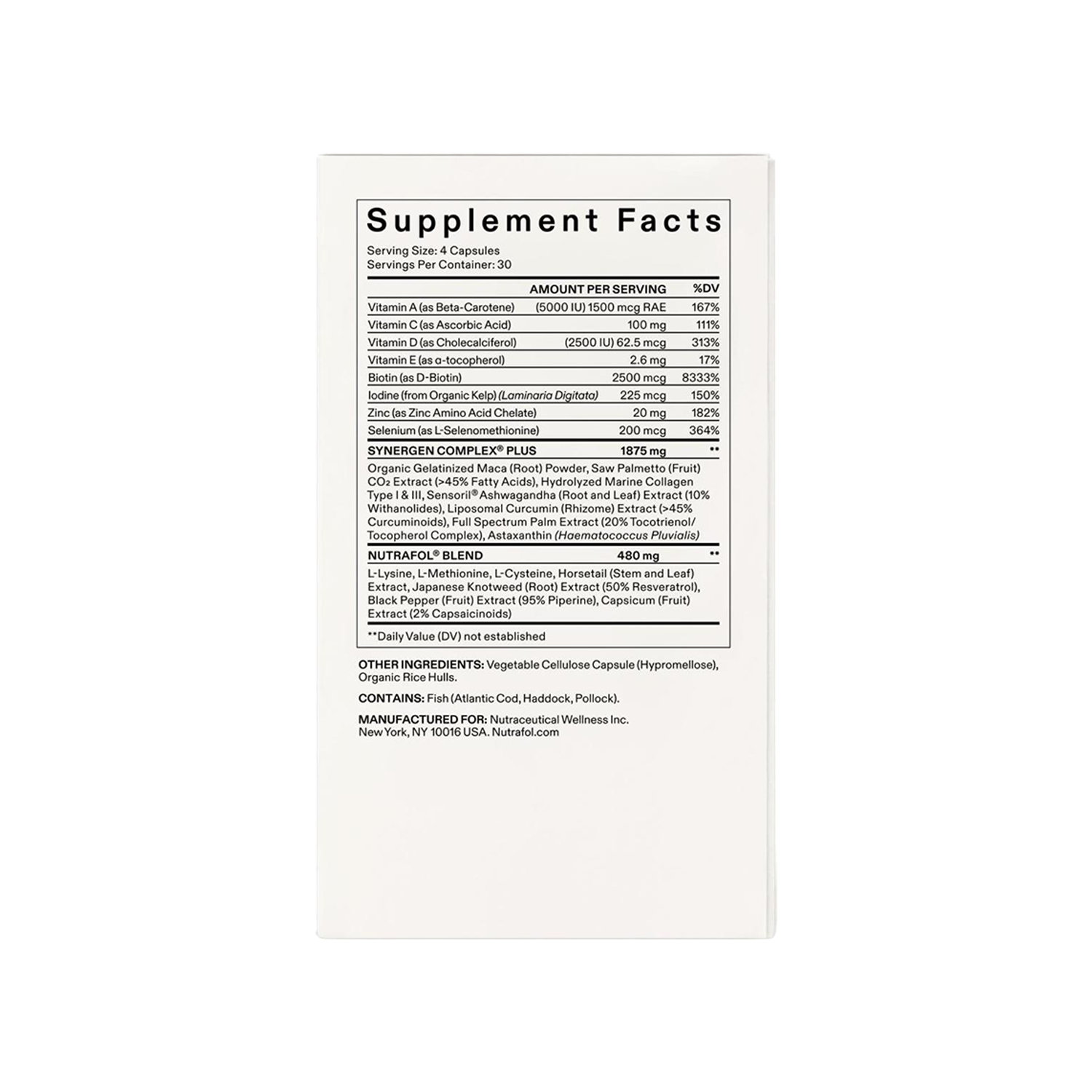 NUTRAFOL WOMEN'S BALANCE
Nutrafol Women's Balance is a daily hair growth supplement designed for women 45+ experiencing hair thinning. It uses natural ingredients to target root causes of thinning, such as: hormones, aging, and metabolism. The physician-formulated, award-winning formula results in visibly thicker, fuller, stronger hair for women through and beyond menopause.
Regular price
Sale price
$79.00
Unit price
per
Sale
Sold out
Share
Product is ideal for
Women peri-menopause or post-menopause (45+) with thinning hair and shedding.
Use as a daily nutritional supplement.
Supporting healthy hair growth and thickness.
This nutritional supplement for women 45+ with thinning and shedding hair has been proven to increase hair growth and improve hair quality. It is physician formulated and 100% drug-free. In a clinical study, 100% of women showed improvement in hair growth at nine months and 93% showed improvement in dryness and brittleness after six months.
Nutrafol Women's Balance targets the 6 root causes of hair thinning triggered by menopause: hormones, stress, lifestyle, metabolism, nutrition, and aging.
It is formulated without gluten, dairy, soy, hormones, drugs, and artificial additives. Non-GMO.
What to Expect 
Here is a snapshot of what Nutrafol users are likely to experience:
Month 1-3: Set the stage for growth. The botanicals and supportive nutrients are working to balance the bodily system and target the factors affecting hair health.
Month 3-6: Start seeing healthy hair growth.
Month 7+: Stay committed. Stay growing.
These statements have not been evaluated by the Food and Drug Administration. This product is not intended to diagnose, treat, cure, or prevent any disease. Make sure to discuss these supplements with your health care provider before taking them.
Take four capsules per day as instructed. Nutrafol Women's Balance is formulated for women during and after menopause. Do not take if you are pregnant, nursing, or trying to conceive.
Additional Information: Each bottle contains 120 capsules, enough for one month's worth.
Q: How much retinol is in your products?

A: The Retinol Moisturizer has 2.5%. The Retinol Eye Cream has 1%.

Q: How much Vitamin C is the CE Antioxidant Serum?

A: It contains a 20% solution of Sodium Ascorbyl Phosphate.

Q: Is retinol only to be used at night?

A: We recommend retinol for night use only. However, the Retinol Eye Cream can be used during the daytime if sunscreen is applied afterward.

Q: Can I use the Retinol Moisturizer on my hands?

Q: Can I use the cleanser to remove makeup?

A: Our Green Tea Cleanser is not formulated to remove makeup and should not be used on the eyes.

Q: Can I use the Retinol Eye Cream on my upper and lower lids?

A: We recommend only applying the Retinol Eye Cream under the eyes.

Q: Can I use the Brightening Cream in the morning and at night?

A: Yes! Apply this as your last step before sunscreen.

Q: In what order should I apply my products?

A: With your order, you will receive a product catalog. On the last page, there is a skin care protocol to help you learn when and in what order to apply the products you have.

Q: How do I know what supplement to take and when?

A: If you place an order for YOUN Health products/supplements, you'll receive a supplement protocol with your purchase.