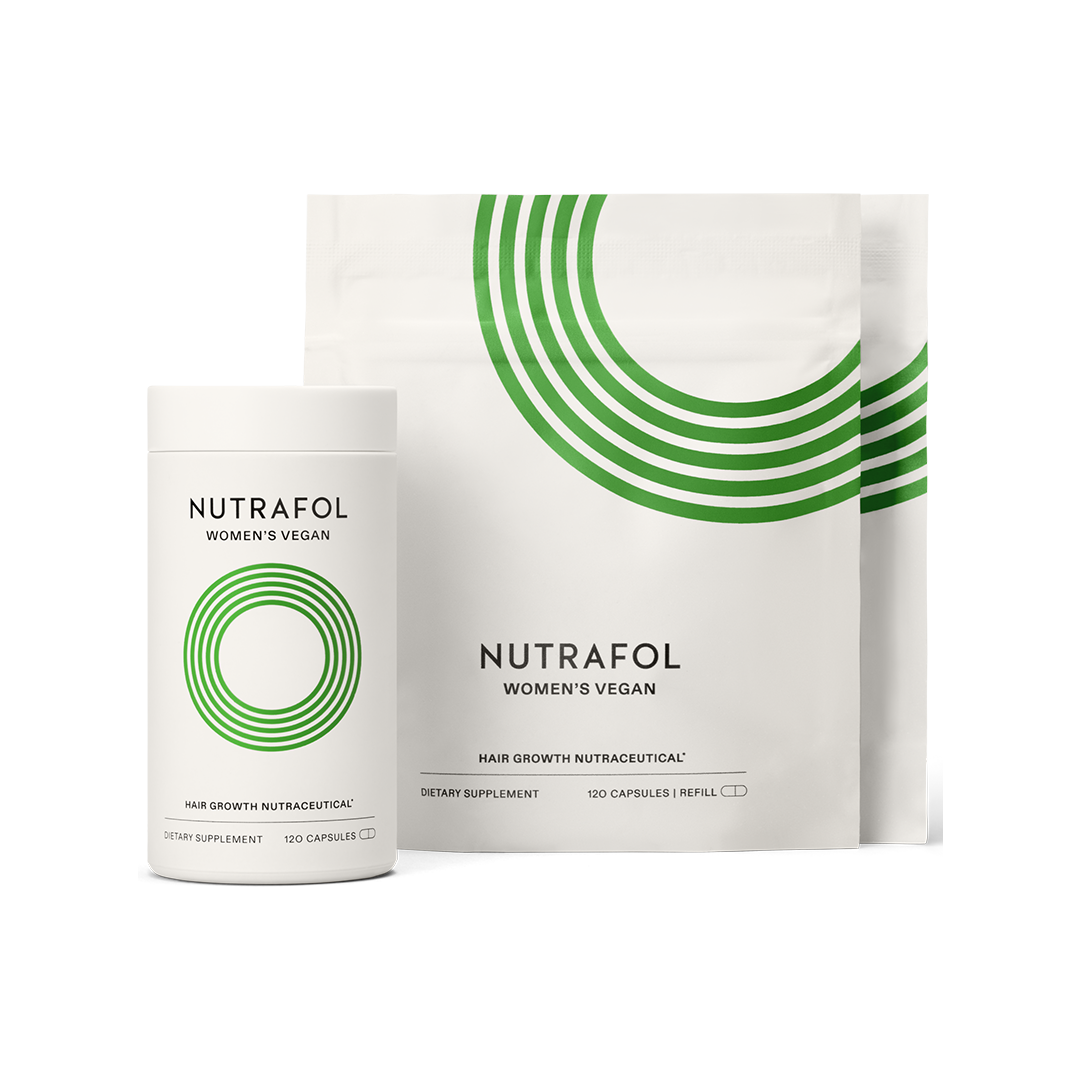 Nutrafol Women's Vegan - Three Pack
A daily hair growth supplement for women leading a plant-based lifestyle. Physician-formulated with 100% vegan, medical-grade ingredients that target key root causes of thinning—including nutrient deficiencies, gut health, and stress—for visibly thicker, faster-growing, and stronger hair with less shedding.
Regular price
Sale price
$225.00
Unit price
per
Sale
Sold out
Share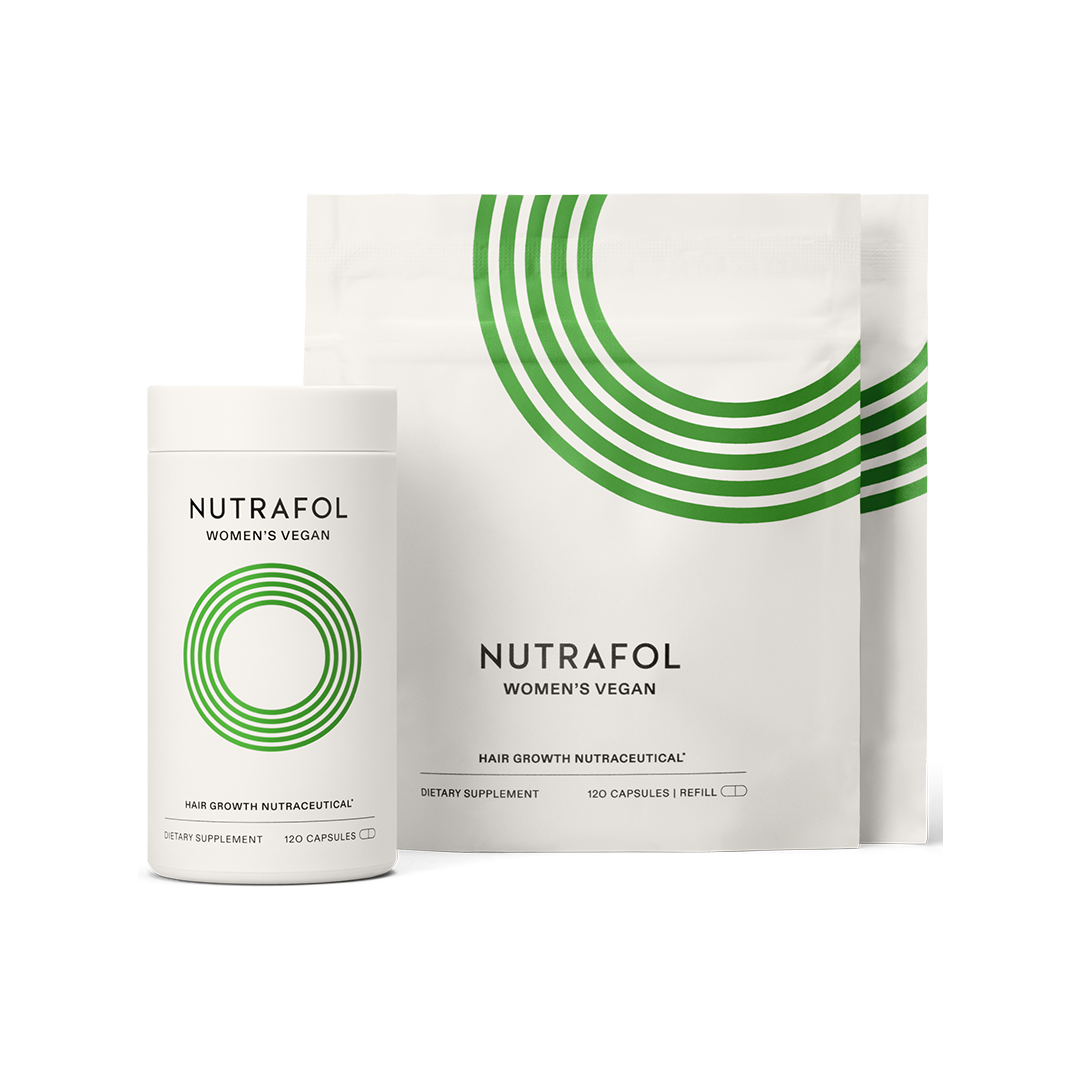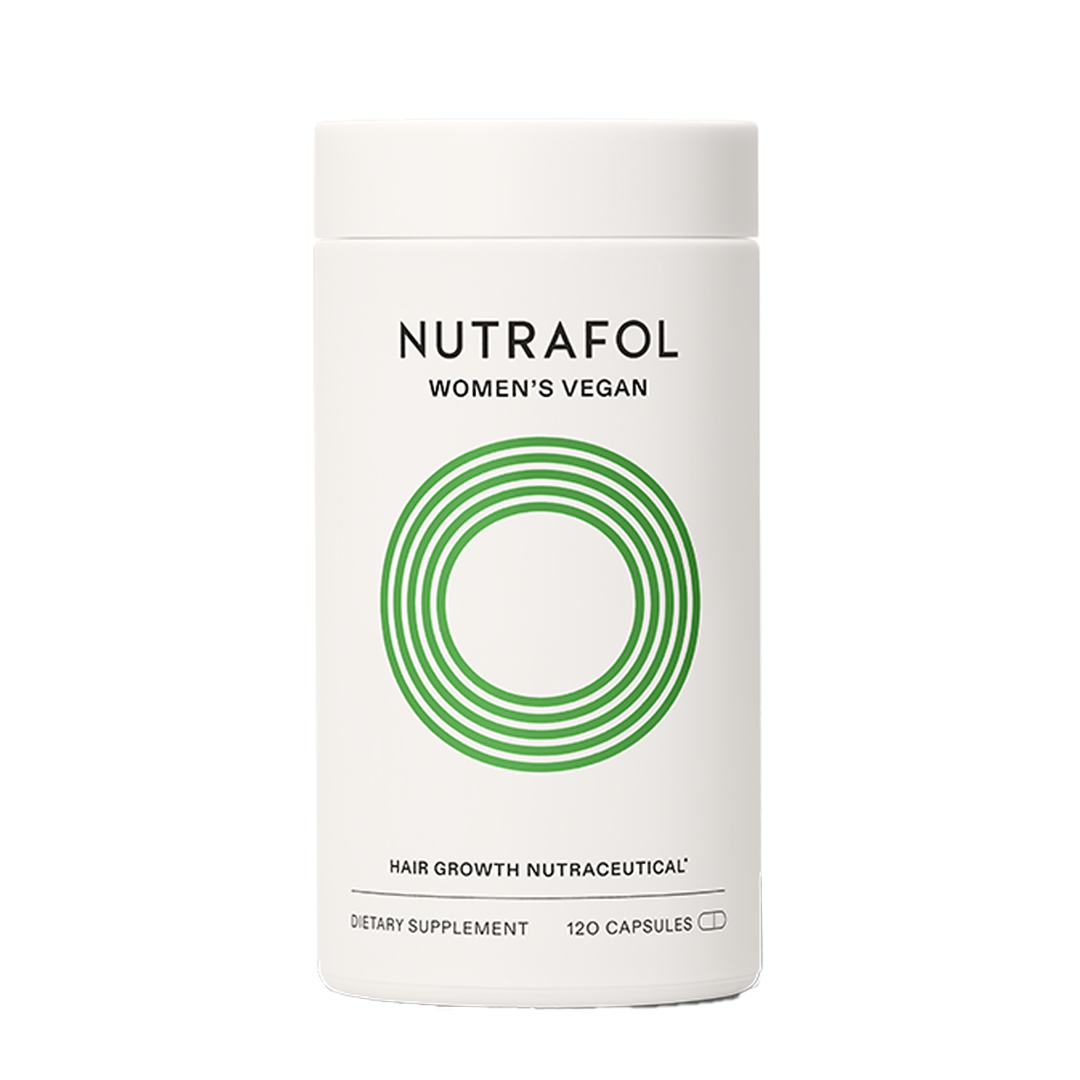 Product is ideal for
Women 18-44 experiencing hair thinning and shedding that lead a plant-based lifestyle, including vegan, vegetarian, pescatarian, and flexitarian.
Use as a daily nutritional supplement.
Supporting healthy hair growth and thickness.
In addition to the stress and overstyling habits that most women are susceptible to, eating a plant-based diet impacts bio-specific needs for healthy hair growth. These imbalances can lead to excess shedding, hair breakage, and thinning.
Rather than simply removing non-vegan ingredients from our Women's Hair Growth Nutraceutical, Nutrafol leveraged clinically effective Moldavian Dragonhead to naturally optimize the body to support its own collagen production.
Nutrafol Women's Vegan is clinically shown to improve hair growth and lessen visible shedding while promoting faster-growing, longer, and stronger hair. It's also been shown to promote visibly thicker lashes and brows, reduce feelings of stress, and improve feelings of increased energy.
Additionally, Nutrafol Women's Vegan provides:
Extra nutritional support for plant-based diets with bioavailable amino acids and minerals.
Probiotics to improve nutrient absorption, aid digestion, and improve the gut microbiome.
Antioxidants to counter toxin exposure, free radical damage, and oxidative stress.
Targeted ingredients to address hormone imbalances and the stress.
100% vegan. Physician-formulated. Free of gluten, dairy, soy, hormones, drugs, artificial additives. Non-GMO. Halal. Recyclable packaging.
Take four capsules per day as instructed with a meal containing healthy fat.
For adults only. Consult your healthcare provider if you are pregnant, nursing, have a medical condition, or are taking other nutritional supplements or medications. Keep away from children. Do not use if safety seal is damaged or missing.  
Q: How much retinol is in your products?

A: The Retinol Moisturizer has 2.5%. The Retinol Eye Cream has 1%.

Q: How much Vitamin C is the CE Antioxidant Serum?

A: It contains a 20% solution of Sodium Ascorbyl Phosphate.

Q: Is retinol only to be used at night?

A: We recommend retinol for night use only. However, the Retinol Eye Cream can be used during the daytime if sunscreen is applied afterward.

Q: Can I use the Retinol Moisturizer on my hands?

Q: Can I use the cleanser to remove makeup?

A: Our Green Tea Cleanser is not formulated to remove makeup and should not be used on the eyes.

Q: Can I use the Retinol Eye Cream on my upper and lower lids?

A: We recommend only applying the Retinol Eye Cream under the eyes.

Q: Can I use the Brightening Cream in the morning and at night?

A: Yes! Apply this as your last step before sunscreen.

Q: In what order should I apply my products?

A: With your order, you will receive a product catalog. On the last page, there is a skin care protocol to help you learn when and in what order to apply the products you have.

Q: How do I know what supplement to take and when?

A: If you place an order for YOUN Health products/supplements, you'll receive a supplement protocol with your purchase.