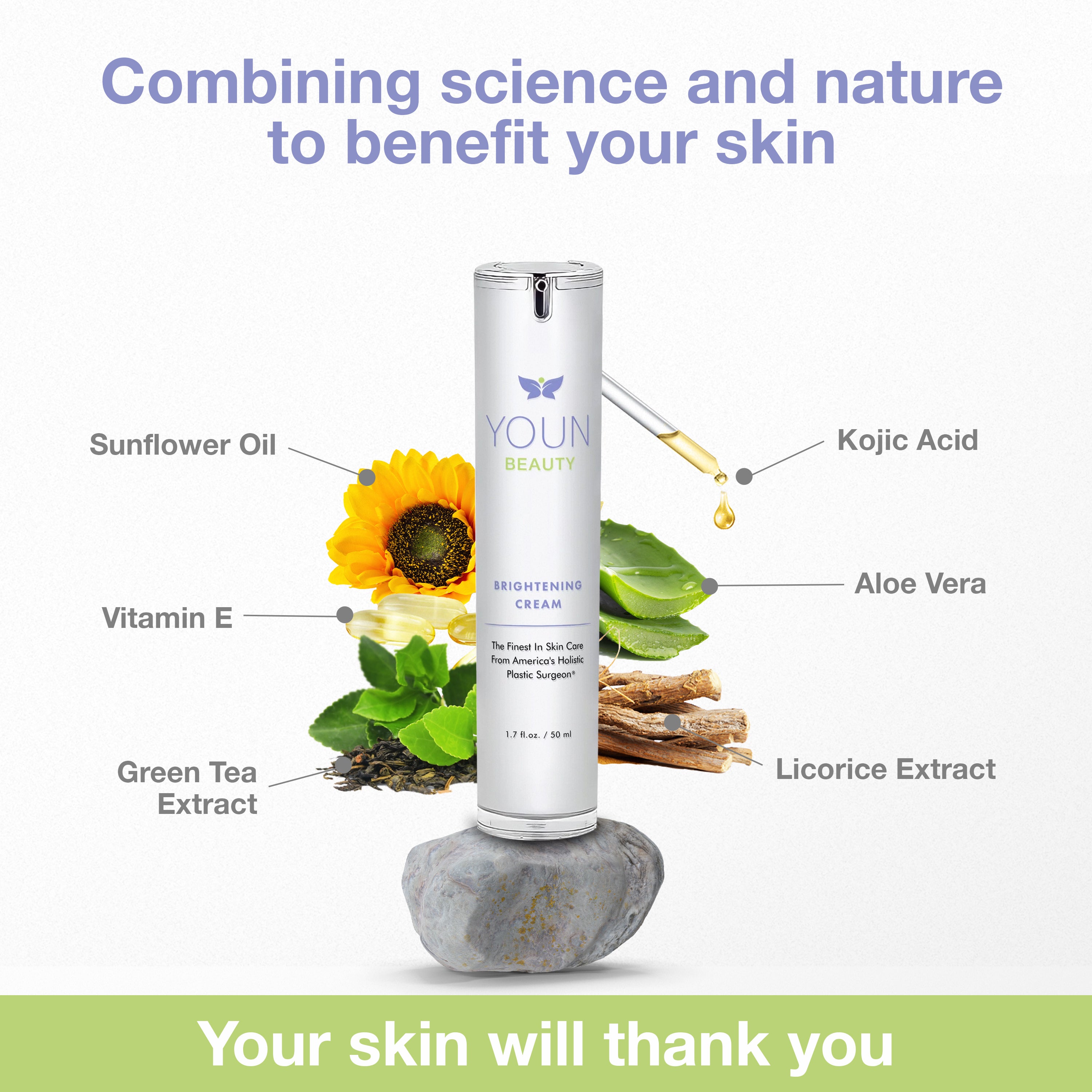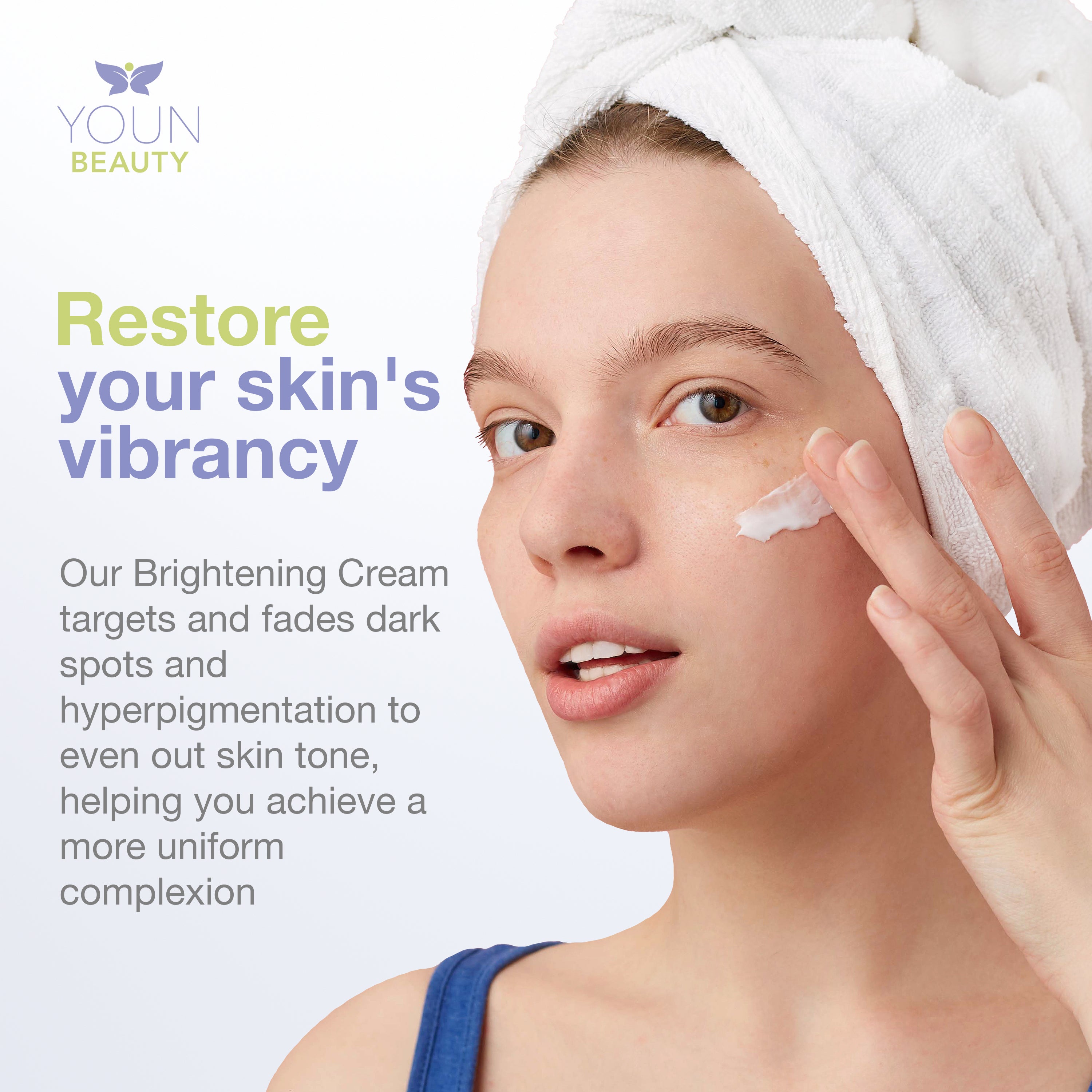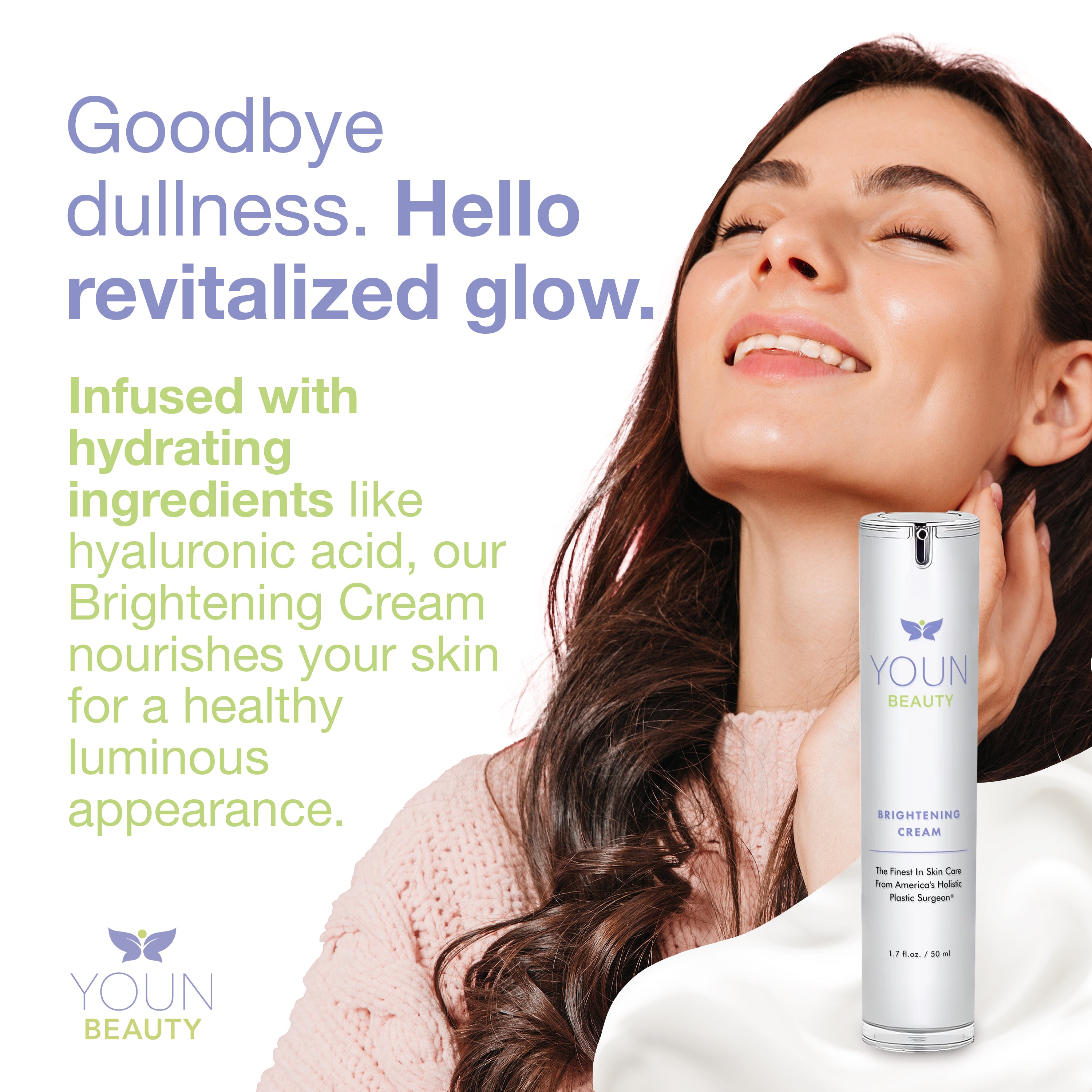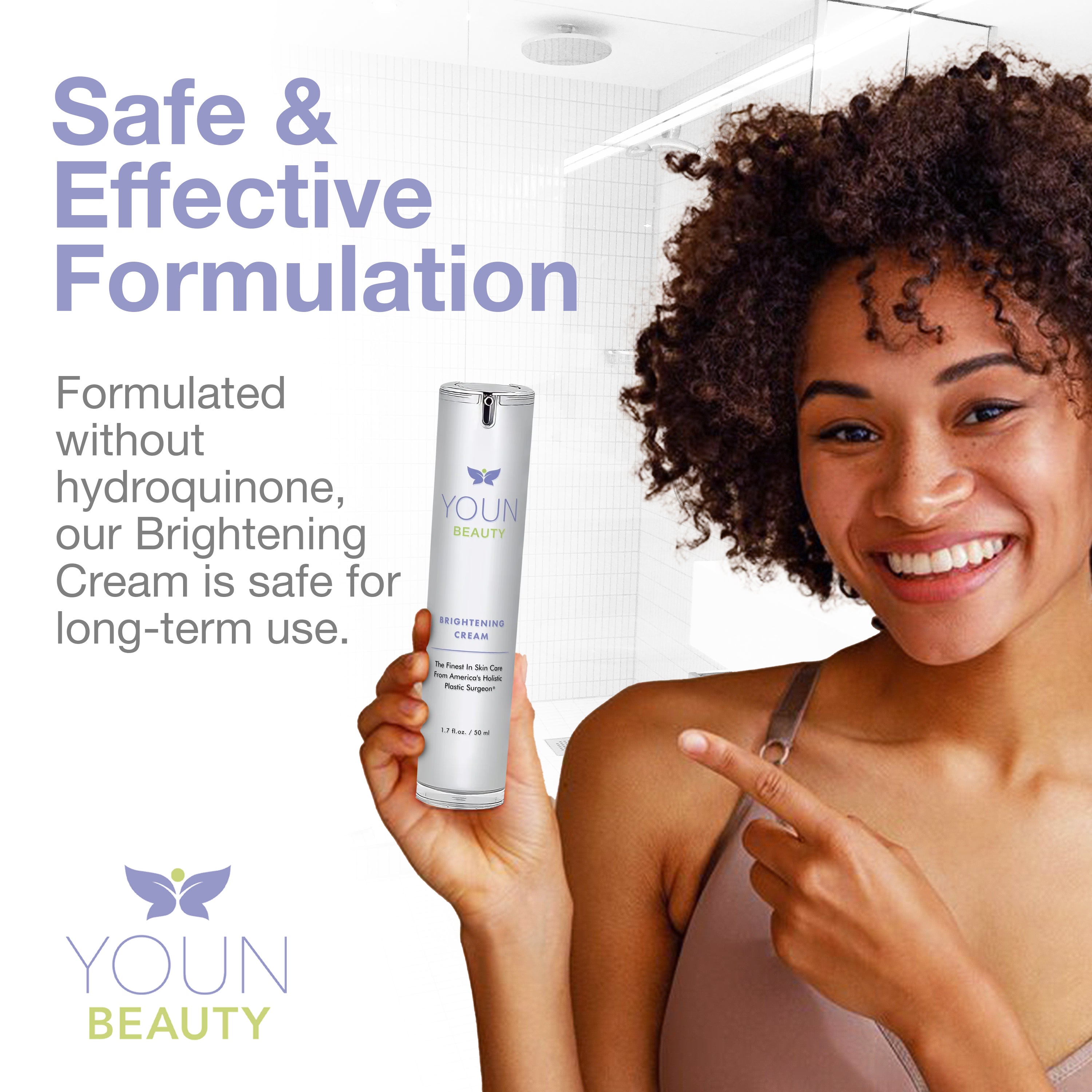 BRIGHTENING CREAM
This hydrating cream is designed to restore the appearance of brilliance and clarity to drab and tired skin.
Regular price
Sale price
$50.00
Unit price
per
Sale
Sold out
Share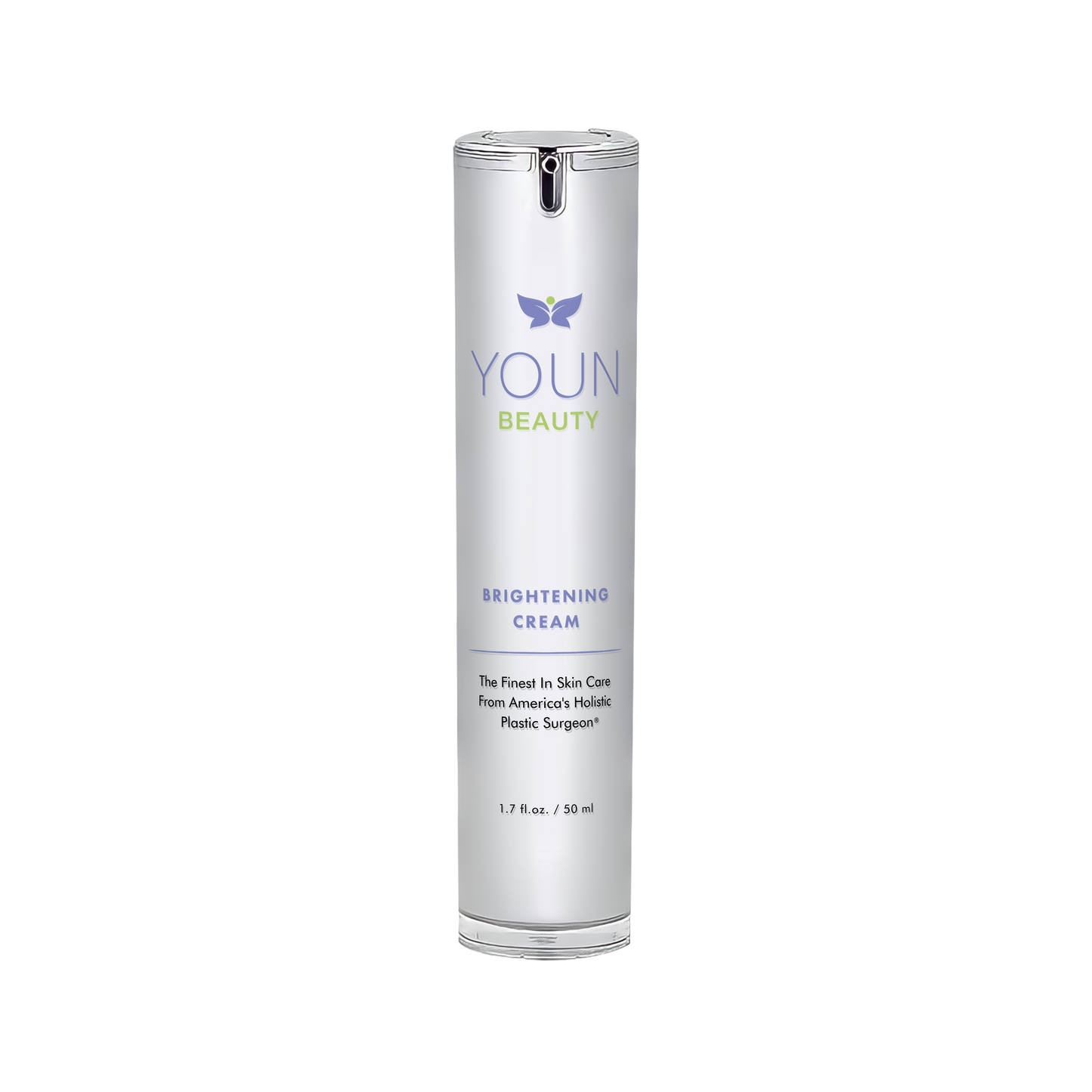 Product is ideal for
All skin types
Age spots (also known as sun spots)
Pigmentary blemishes
A brightening cream that is safe for long-term use
This hydrating cream is designed to lighten hyperpigmentation, fade sun spots, and restore brilliance and clarity to drab and tired skin. Hyaluronic Acid hydrates the skin, while Kojic Acid and Organic Licorice Extract combine to lighten dark spots and even skin tone.  Hydroquinone-free, this cream is safe for daily use.

Weight:  1.7 oz
Apply in a light circular motion to freshly cleansed and toned face, neck and décolleté. Moisturizer application should follow serum application, if used. Allow time to absorb prior to makeup application. Note: Use only as directed. Avoid contact with the eyes. If irritation occurs, discontinue use and consult a physician.
Aloe Barbardensis (Organic Aloe Vera) Leaf Juice, Aqua (Deionized Water), Isopropyl Palmitate (Palm Oil), Helianthus Annuus Seed (Sunflower) Oil, Cassia Angustifolia Seed Polysaccharide (Plant Based Hyaluronic Acid), Cetyl Alcohol, Glyceryl Stearate, Glycerin (Kosher Vegetable), Stearic Acid, Simmondsia Chinensis (Organic Jojoba) Oil, Butyrospermum Parkii (Shea) Butter, Ganoderma Lucidum (Organic Reishi/ Kojic Acid) Extract, Camelia Sinensis Leaf (Green Tea) Extract, Glycolic Acid, Salix Lucida (Organic Willow/Salicylic Acid) Bark Extract, Glycyrrhiza Glabra (Organic Licorice) Extract, Crocus Sativus (Saffron) Meristem Cell Extract, Tocopherol Acetate (Vitamin E), Melissa Officinalis (Organic Lemon Balm) Extract, Curcuma Longa (Turmeric) Root Extract, Panthenol (Vitamin B5), Centella Asiatica (Organic Gotu Kola) Extract, Panax Quinquefolius Root (Ginseng) Extract, Citrus Bergamia (Bergamot Essential) Oil, Equisetum Arvense (Horsetail) Extract, Pimpinella Anisum Seed (Anise) Extract, Cochlearia Armoracia Root (Organic Horseradish) Extract, Taraxacum Officinale Root (Organic Dandelion) Extract, Schisandra Chinensis (Organic Schisandra) Extract, Foeniculum Vulgare Fruit (Fennel) Extract, Xanthan Gum, Geranium Maculatum (Wild Geranium) Extract, Phenoxyethanol, Ethylhexylglycerin.
Q: How much retinol is in your products?

A: The Retinol Moisturizer has 2.5%. The Retinol Eye Cream has 1%.

Q: How much Vitamin C is the CE Antioxidant Serum?

A: It contains a 20% solution of Sodium Ascorbyl Phosphate.

Q: Is retinol only to be used at night?

A: We recommend retinol for night use only. However, the Retinol Eye Cream can be used during the daytime if sunscreen is applied afterward.

Q: Can I use the Retinol Moisturizer on my hands?

Q: Can I use the cleanser to remove makeup?

A: Our Green Tea Cleanser is not formulated to remove makeup and should not be used on the eyes.

Q: Can I use the Retinol Eye Cream on my upper and lower lids?

A: We recommend only applying the Retinol Eye Cream under the eyes.

Q: Can I use the Brightening Cream in the morning and at night?

A: Yes! Apply this as your last step before sunscreen.

Q: In what order should I apply my products?

A: With your order, you will receive a product catalog. On the last page, there is a skin care protocol to help you learn when and in what order to apply the products you have.

Q: How do I know what supplement to take and when?

A: If you place an order for YOUN Health products/supplements, you'll receive a supplement protocol with your purchase.