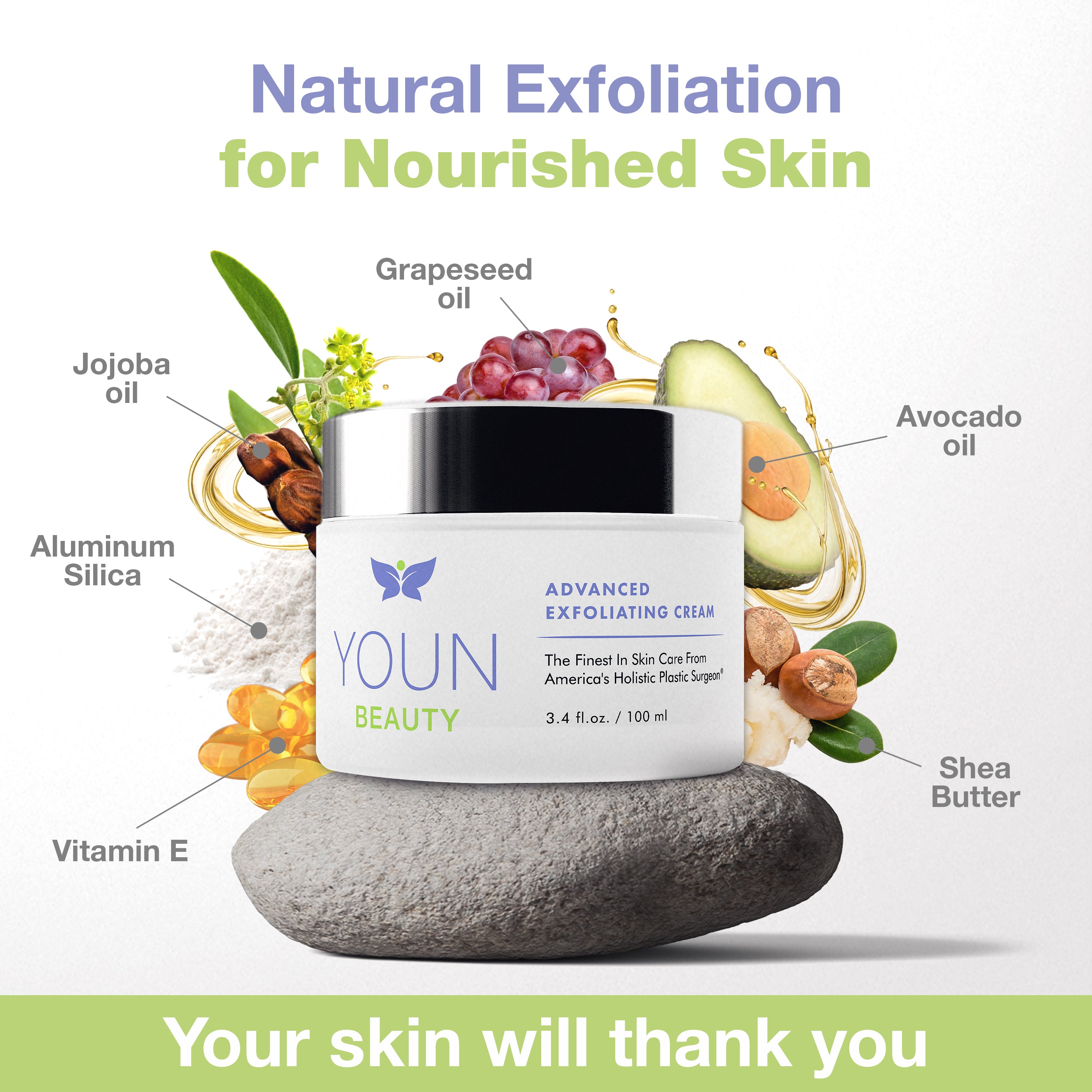 ADVANCED EXFOLIATING CREAM
A gentle but effective polish used to exfoliate the top layer of the epidermis.
Regular price
Sale price
$50.00
Unit price
per
Sale
Sold out
Share
Product is ideal for
All skin types
Oily or acne-prone skin
Skin with a rough texture
Exfoliating all types of skin on a regular basis
This gentle but effective polish is used to exfoliate the top layer of the epidermis, bringing newer skin to the surface. This results in skin that looks and feels immediately smoother, tighter, and more refined. Use regularly to create a long-term skin smoothing effect. Contains natural Avocado, Jojoba, Hemp and Grapeseed oils, plus 4% Shea Butter and Vitamin E.
Weight : 3.4 oz
Apply a small amount to the skin and rub in a rotational pattern. Rinse off with warm water, then apply moisturizer. For best results, use two to three times per week in the evening, unless you develop irritation. Keep away from eyes, eyelids, and mouth.
Deionized Water, Aluminum Silica (Bauxite), Glyceryl Steatate, Butyrospermum Parkii (Shea Butter), Persea Gratissima (Avocado) Oil, Vitis Vinifera (Grapeseed) Oil, Simmondsia Chinensis (Jojoba) Oil, Cannabis Sativa (Hemp) Seed Oil, Caprylic/Capric Triglycerides, Glycerine, Stearic Acid, Tocopherol (Vitamin E), Cetyl Alcohol (Fatty Acid), Phenoxyethanol and Caprylyl Glycol.
Q: How much retinol is in your products?

A: The Retinol Moisturizer has 2.5%. The Retinol Eye Cream has 1%.

Q: How much Vitamin C is the CE Antioxidant Serum?

A: It contains a 20% solution of Sodium Ascorbyl Phosphate.

Q: Is retinol only to be used at night?

A: We recommend retinol for night use only. However, the Retinol Eye Cream can be used during the daytime if sunscreen is applied afterward.

Q: Can I use the Retinol Moisturizer on my hands?

Q: Can I use the cleanser to remove makeup?

A: Our Green Tea Cleanser is not formulated to remove makeup and should not be used on the eyes.

Q: Can I use the Retinol Eye Cream on my upper and lower lids?

A: We recommend only applying the Retinol Eye Cream under the eyes.

Q: Can I use the Brightening Cream in the morning and at night?

A: Yes! Apply this as your last step before sunscreen.

Q: In what order should I apply my products?

A: With your order, you will receive a product catalog. On the last page, there is a skin care protocol to help you learn when and in what order to apply the products you have.

Q: How do I know what supplement to take and when?

A: If you place an order for YOUN Health products/supplements, you'll receive a supplement protocol with your purchase.