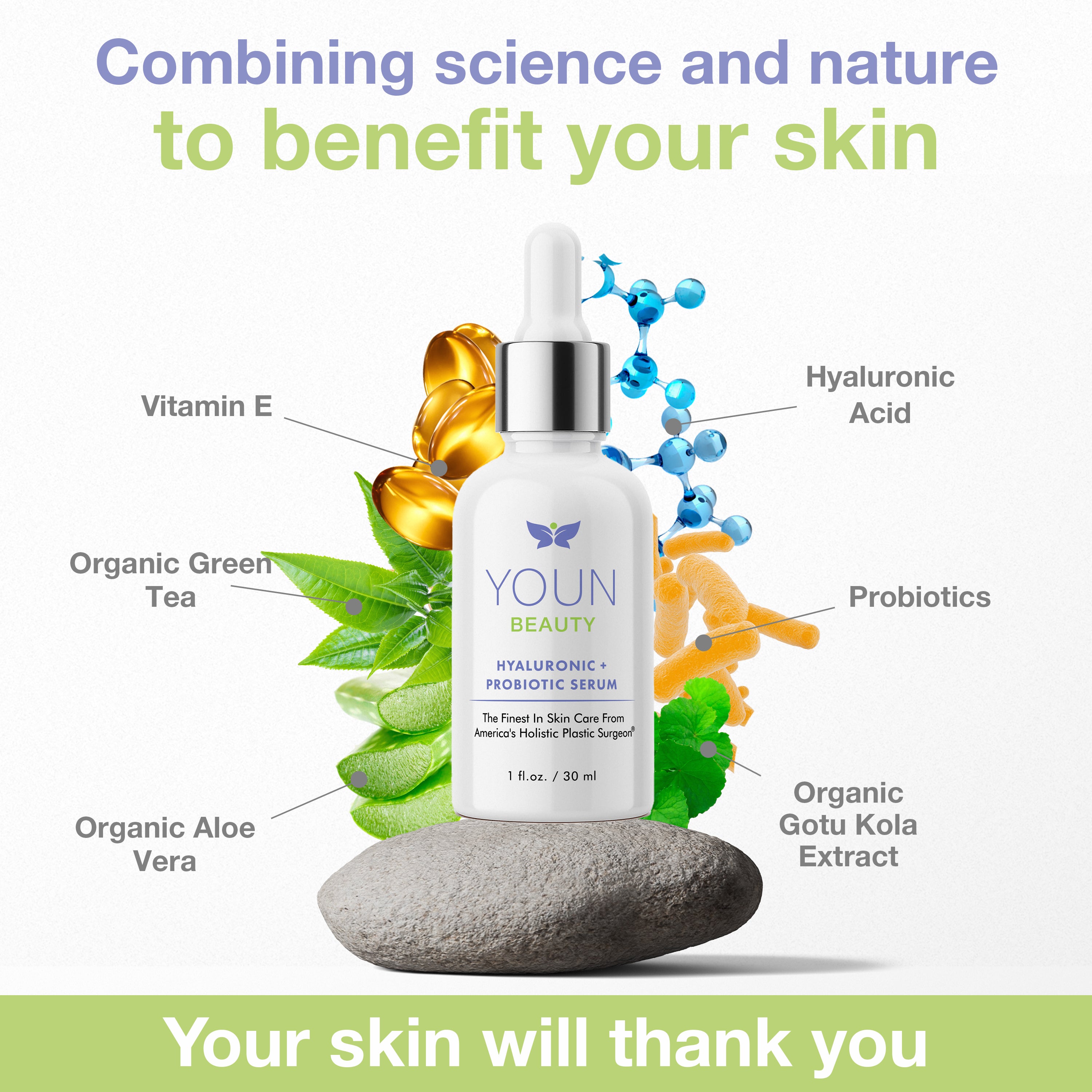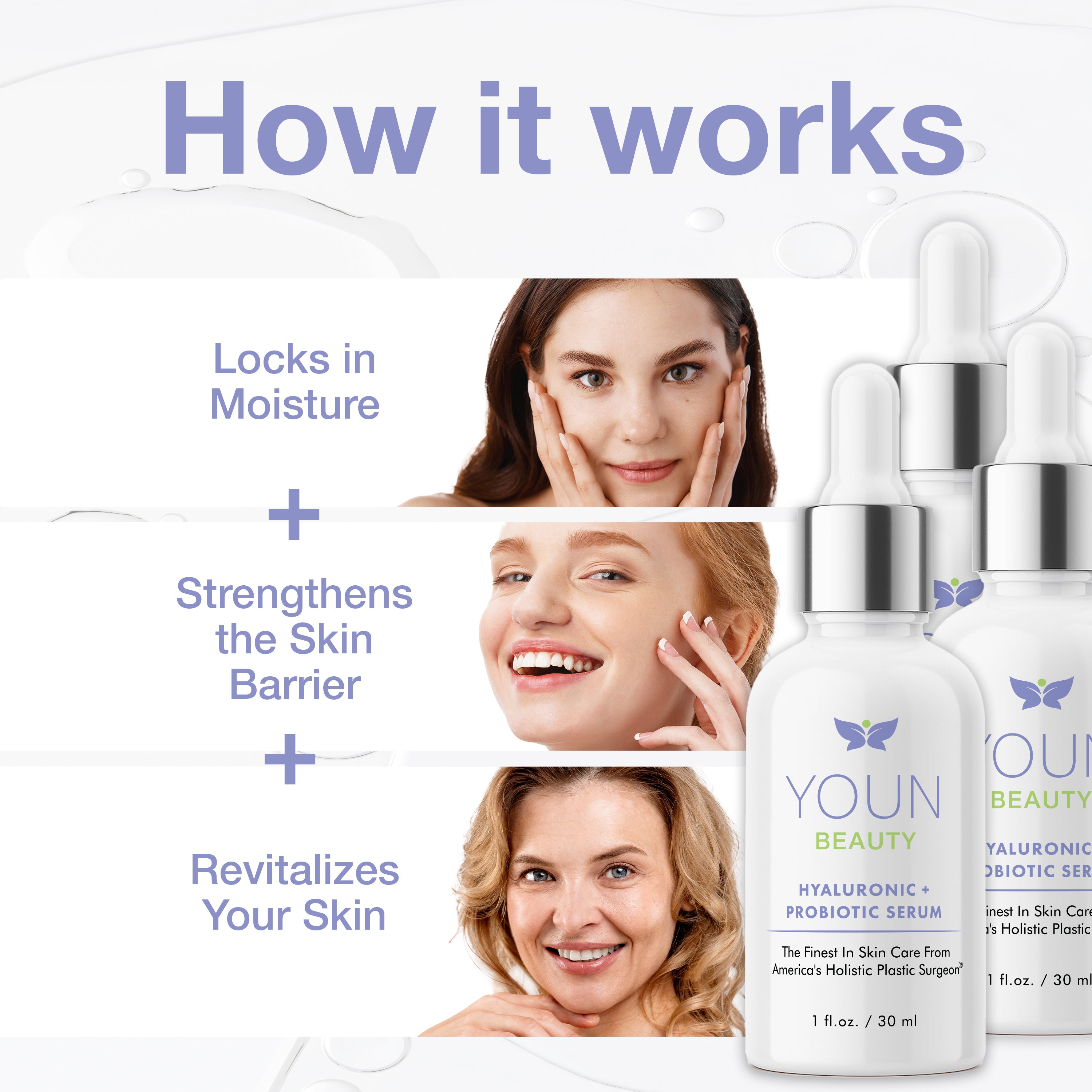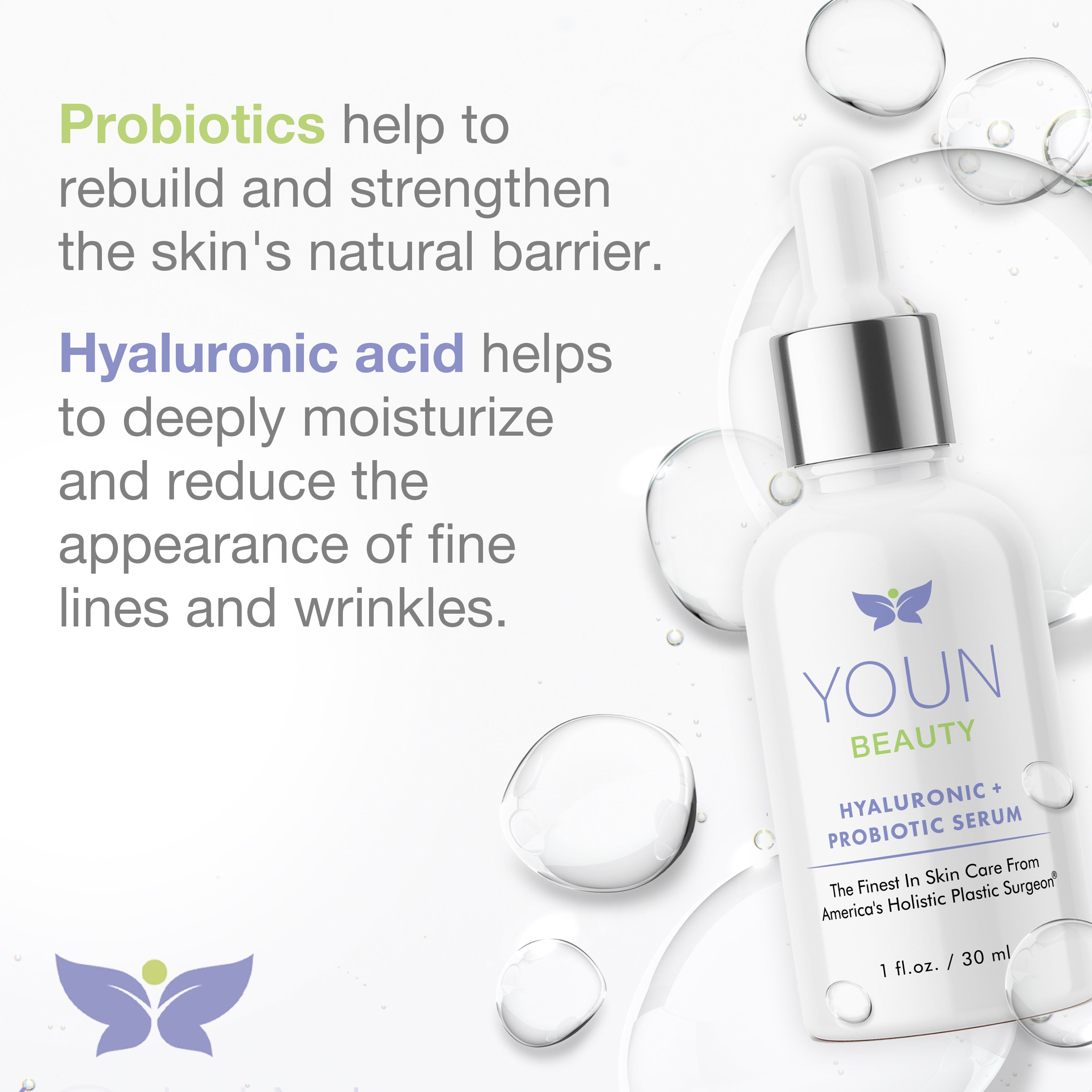 Hyaluronic + Probiotic Serum
A powerful skin cocktail of hyaluronic acid and probiotics which nourishes and hydrates giving your skin a luminous glow.
Regular price
Sale price
$49.00
Unit price
per
Sale
Sold out
Share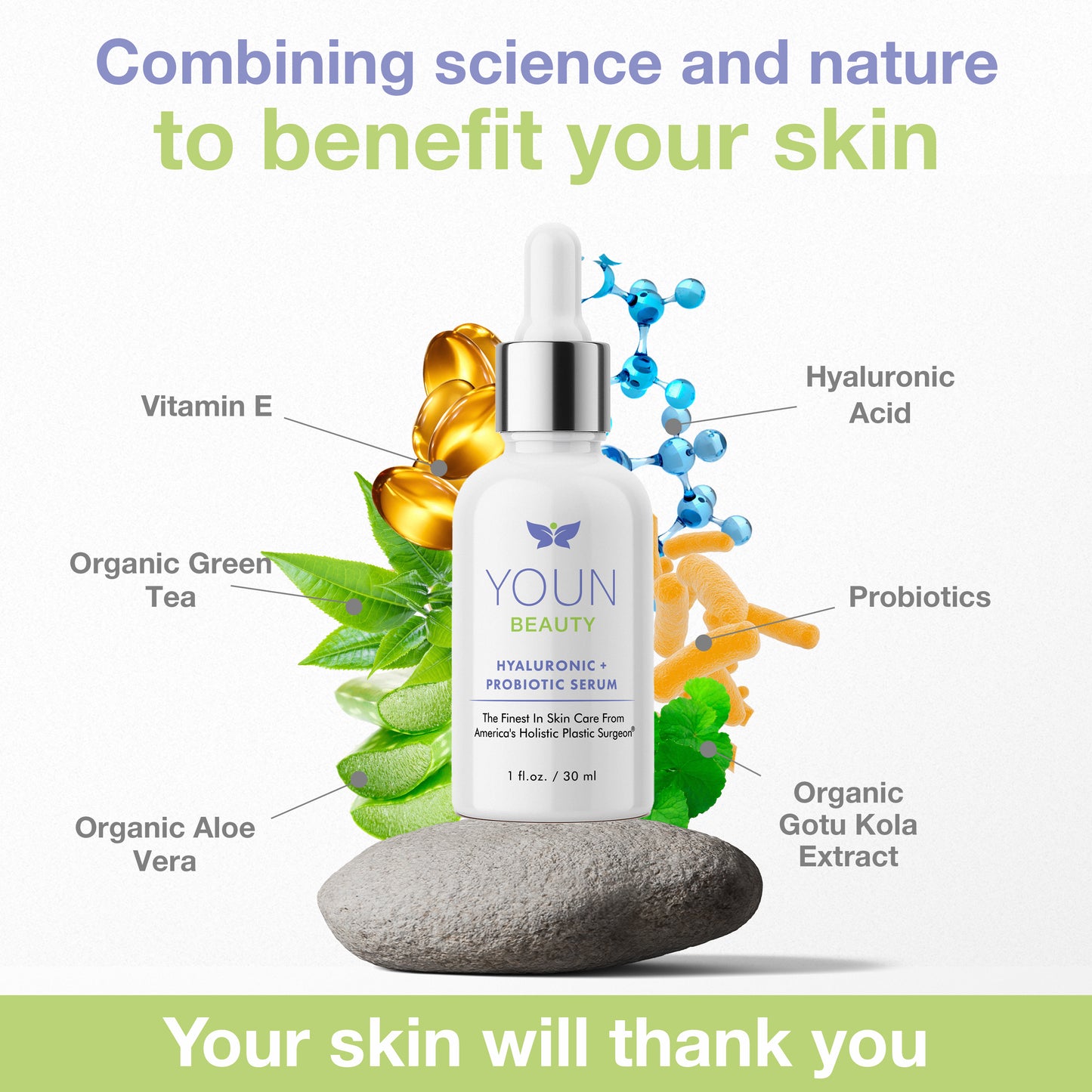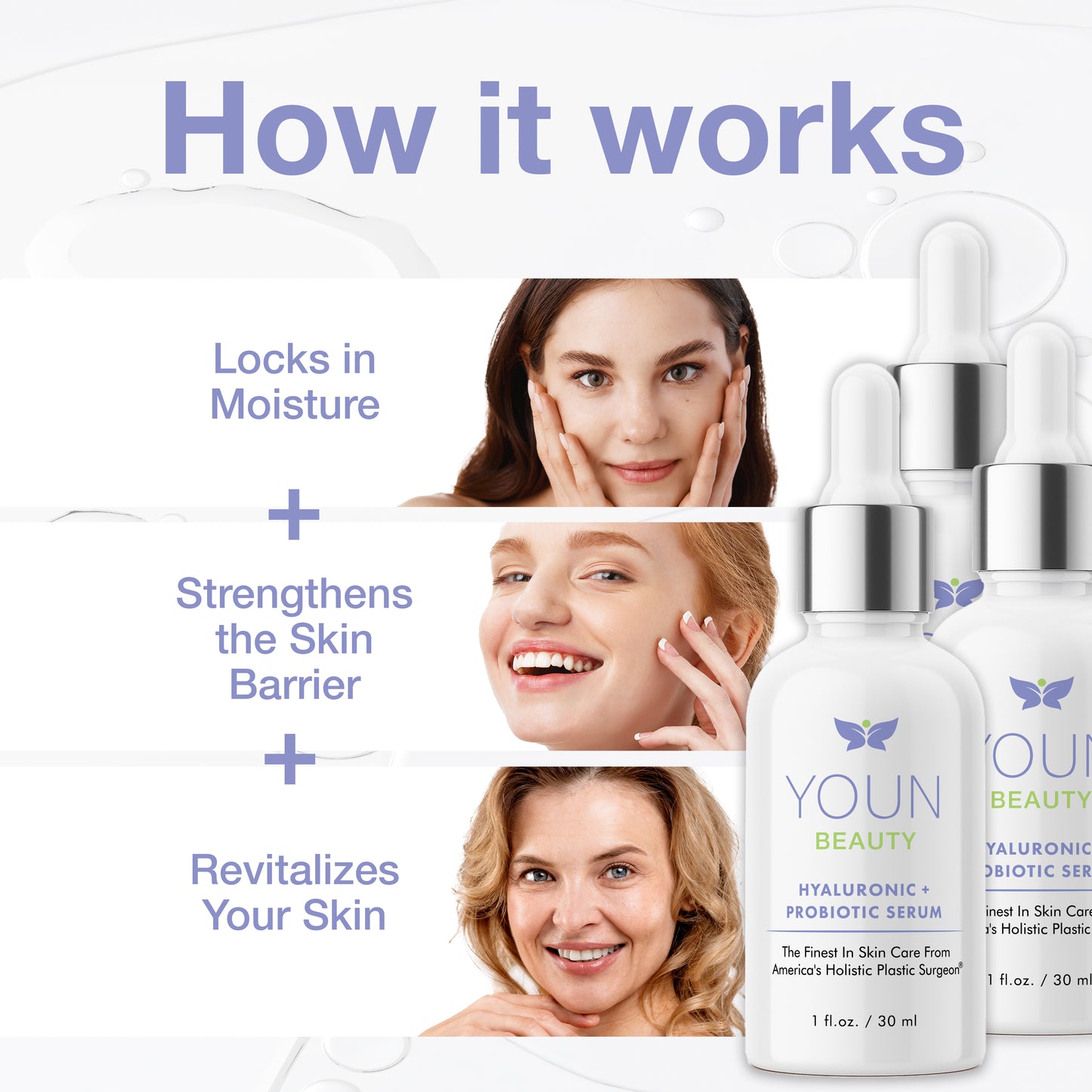 Product is ideal for
Intense skin hydration
Dry or mature skin
Skin that is prone to irritation
Anyone looking to reduce the appearance of fine lines and wrinkles
Our hyaluronic acid serum with probiotics is a powerhouse skin care product that nourishes and hydrates the skin for a youthful, radiant appearance. Hyaluronic acid is a naturally-occurring moisturizer that helps the skin stay hydrated and improves elasticity. The added probiotics help support the healthy balance of the skin's microbiome, leaving the skin looking and feeling more nourished and less prone to irritation. By combining the benefits of hyaluronic acid and probiotics, this serum provides you with a synergistic skin care solution that you will love!
Apply a small amount with fingertips to freshly cleansed and toned skin morning and evening as desired. Lightly pat on the face, neck and décolleté and avoid direct contact with eyes. Allow time to absorb before moisturizer application.
Aqua (Deionized Water), Hamamelis Virginiana (Witch Hazel) Water, Cassia Angustifolia Seed Polysaccharide (Plant Based Hyaluronic Acid), Glycerin (Kosher Vegetable), Aloe Barbadensis (Organic Aloe Vera) Leaf Juice, Dimethyl Sulfone (MSM), Sodium Ascorbyl Phosphate (Vitamin C), Simondsia Chinensis (Organic Jojoba) Oil, Tocopheryl Acetate (Vitamin E), Yogurt Extract (Probiotics), Pelargonium Graveolens (Geranium Essential) Oil, Camellia Sinensis (Organic Green Tea) Extract, Centella Asiatica (Organic Gotu Kola) Extract, Geranium Maculatum (Wild Geranium) Extract, Equisetum Arvense (Horsetail) Extract, Taraxacum Officinale (Dandelion) Extract, Hydroxyethyl Ethylcellulose, Carrageenan Gum, Sodium Benzoate, Potassium Sorbate, Ethylhexylglycerin.
Q: How much retinol is in your products?

A: The Retinol Moisturizer has 2.5%. The Retinol Eye Cream has 1%.

Q: How much Vitamin C is the CE Antioxidant Serum?

A: It contains a 20% solution of Sodium Ascorbyl Phosphate.

Q: Is retinol only to be used at night?

A: We recommend retinol for night use only. However, the Retinol Eye Cream can be used during the daytime if sunscreen is applied afterward.

Q: Can I use the Retinol Moisturizer on my hands?

Q: Can I use the cleanser to remove makeup?

A: Our Green Tea Cleanser is not formulated to remove makeup and should not be used on the eyes.

Q: Can I use the Retinol Eye Cream on my upper and lower lids?

A: We recommend only applying the Retinol Eye Cream under the eyes.

Q: Can I use the Brightening Cream in the morning and at night?

A: Yes! Apply this as your last step before sunscreen.

Q: In what order should I apply my products?

A: With your order, you will receive a product catalog. On the last page, there is a skin care protocol to help you learn when and in what order to apply the products you have.

Q: How do I know what supplement to take and when?

A: If you place an order for YOUN Health products/supplements, you'll receive a supplement protocol with your purchase.